Todd Fellegy
Todd started dancing at age 7 and started calling at age 13.   He took square dance lessons as part of an extra curriculum course in elementary school and graduated from Quinnipiac University with a Bachelors Degree in Accounting.
Todd has called in 27 states, Sweden, Germany, and Canada.   His home programs range from A-2 through C-3A.  Todd also calls Fun Night and Basic level through C-4.  He also travels on a regular basis for other clubs, weekends, and conventions.
Todd's choreography is interesting, different, and extremely accurate.  He's noted for his quick wit and sense of humor on and off stage, always wanting the dancers to succeed while at the same time keeping the level challenging.  Todd's at ease calling for one square or 40.  Dancers have commented on how much they enjoy his choice of music for the dance.  Todd uses the sign of the Tiger as his logo.
In 1999 Todd received his certificate from Callerlab for 25 years of calling.
Betsy Gotta
Betsy Gotta of North Brunswick, New Jersey has been square dancing since 1952 and calling since 1962.  As a full-time caller Betsy currently calls regularly for 5 square dance clubs, calls all programs from Contra through C-3B and is an accredited Callerlab Caller Coach.
Averaging approximately 300 dances/classes per year, in addition to her regular home calling program, Betsy travels throughout the United States & Canada for guest calling engagements, weekends, festivals, and callers' schools. Betsy also is the featured caller for instructional videos produced by Square Dance Videos Inc. and sold by Gottadance Videos, and has recorded for County Line and Desert Gold Records.
Betsy is a former Vice-Chairman of CALLERLAB. She is a founding member of the Callers' Council of NJ, a charter member of the Square Dance Council of NJ (and it's current Chairman), and with her husband Roy, a member of the Northern NJ Round Dance Leader's Council and Roundalab.
In 2001, at the IAGSDC Convention in Vancouver, Betsy received the Golden Boot Award, for her efforts to bridge the gap between gay and straight square dance clubs.
   In 2006, at the CALLERLAB Convention in Charlotte, Betsy received the Milestone Award, CALLERLAB's highest honor, for her numerous contributions to the square dance activity.
At the 2012 National Square Dance Convention in Spokane, WA Betsy was honored by the National Executive Committee for her Support, Devotion and Calling at the National Square Dance Convention 1963-2012.
Chris Phillips – IAGSDC Pioneer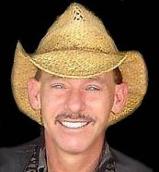 This is a reprint and redaction of an article from SQUAREUP! Magazine, Issue 22, from Summer 2000. Please understand that all dates are relative to the year 2000 publication date. No author is cited for the originally published article. Passages not related to Square Dancing have been removed in the interest of space.  – George V.
He's one of our Community's original members though you might not guess by looking at him. Chris Phillips' youthful appearance may lead you to believe that he is not an "old-timer." In fact, Chris began dancing in 1977 as a member of "Uncle Charlies' Square" the second square formed in response to an ad designed to attract patrons to a Miami gay bar (in competitive squares). Taken by the activity, he became his square's instructor, and the rest is history. Within a five-year period, Chris became the caller for the first gay square dance club, participated in organizing the first gathering to be called a "fly in," and helped set the stage for the formation of the International Association of Gay Square Dance clubs, ("IAGSDC").
Chris's progression from dancer, to caller, to organizer, followed a path that was accomplished without today's support structures that we take for granted. His journey began soon after joining Uncle Charlie's Square, when Chris decided to take lessons from a straight club to see how the "other side" worked. At his first lesson, Chris realized how much more enjoyable square dancing was with a caller. He enrolled in the class and convinced Dean Hofmann of the Club Bath Square to join him. Together, they were able to take what they learned and convince their respective squares to practice together rather than compete, and to learn calls instead of memorizing sequences.
A year later, a few dancers were tired of dancing to records and asked Chris to call. Chris admits, "It was something I wanted to do, but I needed to hear it from them to give me the push." Without the benefit of instruction manuals or caller schools, Chris initially saw square dancing as "choreography set to cues." He would teach the calls and then walk dancers through formations. But one day while calling, things clicked. Chris recalls, "Like finally lining up all the colors on a Rubric's Cube, it all made sense. Instead of just teaching calls so we could dance to records, I realized I could improvise by using various calls and directives to resolve a square. I would learn later that this was a form of extemporaneous sight calling, but at the time it was just the most orderly way to teach."
For the first few years, Chris was calling hash and patters. Encouraged by Jack Lasry, a nationally renowned straight caller, Chris continued calling and began to add singing calls to his repertoire. Soon, Jack asked Chris to fill in for him at his local club while he traveled. "It was exciting, my first real gig," Chris recalls. "It gave me the confidence, and in my mind, established me as a qualified caller." Later as Jack was easing out of calling due to poor health, he asked Chris to assume more of his duties. "I believe my at-ease approach to calling and the fact that I was (at the time) the age of most of the dancers' children, helped with my popularity at the straight clubs," Chris relates.
From the onset, both Chris and Dean recognized the potential of gay square dancing. Perhaps one of Chris' fondest memories of those early years is of sitting with Dean and other members of their squares at Dean's kitchen table, shortly after a dance practice. The groups was discussing the future of gay square dancing. Dean and Chris were in agreement that "some day you will be able to go to almost any city and gay square dance – why there will probably be gay convention." The others rolled their eyes. And yet, Chris and Dean had already launched the world's first gay square dance club, so why not set their sights higher?
In late 1982, Chris took steps that would ultimately help turn his and Dean's convention dream into a reality. Chris opened a bar called The Crossfire – named after the square dance call of course – as an attempt to bring country & western dancing to South Florida and as a home for the South Florida Mustangs. In February of 1983, the Mustangs invited all the known clubs at the time to join them in an event that they coined a "fly-in". Talk of organizing gay and square dancing was well underway and during the fly-in, the first formal meeting was held at The Crossfire. A year later, the first convention became a reality. "It was an awesome experience to attend the first gay convention in Seattle," Chris recalls. "In fact, all the conventions hold something special to us who remember when they were just wishful thinking."
With the arrival of gay conventions, Chris and other gay callers were exposed to national callers whose polish and command of the floor would prove humbling if not intimidating. The exposure would lead to discussion of the need for a supportive organization of gay callers, and ultimately, to the formation of the Gay Callers Association. Today, Chris shares the sentiments of many who would like to see more gay callers on convention staffs: "It's an unfair playing ground when our gay club callers are compared to the nation's best. The lineup of callers at any gay convention reads like a Who's Who of the straight Nationals. If most gay callers were compared to their local competition instead, they would outshine them hands down".
Chris continues to call, and can be counted among those for whom square dancing is both pleasure and business. He owns and operates the Round Up, a dance hall and community center in Miami that opened in 1990 […….] The corral style dance floor and the horseshoe shaped bar were removed to make way for a wide-open dance hall that can accommodate 14 squares. It serves as the home for the South Florida Mustangs, accommodates private gatherings and enjoys a large straight business during the winter season.
Chris is aided by his partner, Tom, in managing the Round Up.
[…..]
With nearly 24 years of involvement in the gay and lesbian square dancing, Chris remains one of the central figures in our community. His commitment to making things work in the days without caller schools and instruction books is remarkable. Ultimately, his devotion would help our Community's first club stay the course and would help lead to the creation of the IAGSDC. Chis is a pioneer of our activity, and one who continues to serve as a model for all who follow in his footsteps.