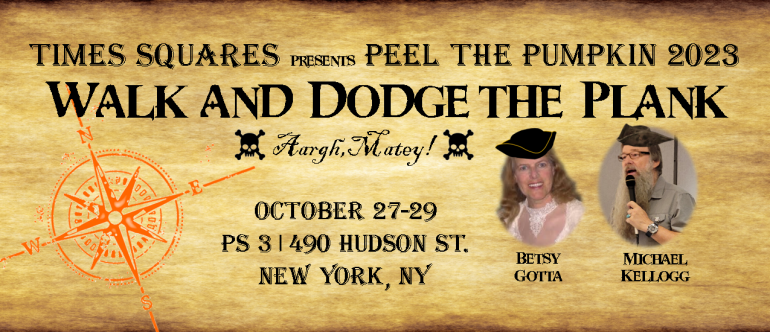 Please join Times Squares for a jolly good time on the high seas as we set sail into a new chapter of Peel the Pumpkin history. The weekend is scheduled for October 27-29, 2023, so mark your calendar.
We dock at PS3 for a full weekend of dancing Mainstream through Challenge 1 with callers Betsy Gotta (NJ) and Michael Kellogg (CA).
Besides dancing, optional activities include a Sunday morning walk and Sunday brunch at Cowgirl restaurant, a favorite local eatery.
Sunday morning, Times Squares club member, Paul Sheftman, will be guiding a free walking trip to Little Island.
Little Island is an artificial island park in the Hudson River, opened in 2021, where all can experience nature and art in a unique urban oasis. More info at littleisland.org. Those interested should meet outside the Apple store, 401 West 14th Street (corner 9th Ave) at 9:30 AM. The walk will finish in time to allow you to get to the Sunday brunch at 12 noon, it is a short walking distance from Little Island. Paul's cell # is 917-538-4411 if you need to contact him on the day.
Brunch at Cowgirl restaurant, 519 Hudson St, NYC , 12pm-2pm, optional cost $35 includes tax and gratuity.
COWGIRL BRUNCH MENU
Scrambled Eggs
Soft Flour and Corn Tortillas
Salsa Trio
Texas Cheese Grits
Silver Dollar Pancakes with Maple Syrup
Thick-Cut Hickory Smoked Bacon
Field Greens Salad
Fresh Baked Biscuits
Includes Coffee or Tea
The weekend has a pirate theme, so get creative with outfits for the costume contest on Saturday night. And get your pirate booty with our gift baskets full of wonderful pirate treasure. Yo ho ho!!
REGISTRATION
$80 EARLY until 2023 January 31
$100 STANDARD until 2023 July 31
$120 LATE until 2023 October 27
Per session price $30 payable at door.