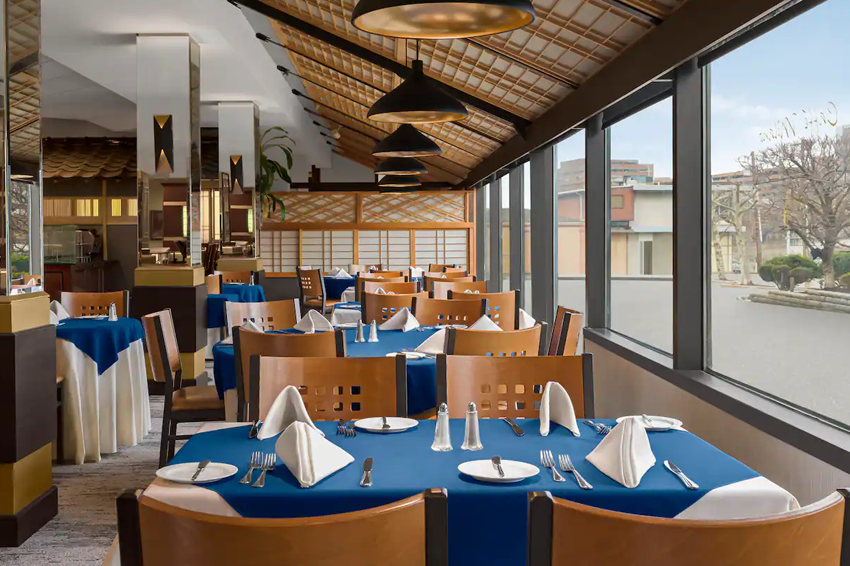 A variety of dining options are available within the hotel. Cafe Milano offers Italian and Continental specialties for casual dining. At the SUGI Japanese restaurant you will find sushi and other Japanese delicacies. For more information visit the hotel dining page.
Breakfast
Breakfast buffet is available at Cafe Milano every morning. You can also order from the menu at breakfast.
Saturday Lunch
Lunch is available from the regular menu at Cafe Milano on the first floor.
On Saturday (Nov 2, 2019) the hotel is offering boxed lunches for $16 (inclusive of tax and gratuity) at a room adjacent to the dance halls. The following are the options available for the boxed lunch. You will receive an order form in your registration packet. Please make a selection by 10:00 am on Saturday and turn in the form to the Peel the Pumpkin registration desk on second floor if you wish to order the boxed lunch.
Boxed Lunch
Saturday November 2, 2019
one of the following sandwiches
Tuna Salad with Lettuce & Tomato on Croissant
Turkey and Cheddar with Lettuce & Tomato on Kaiser Roll
Virginia Ham and Swiss with Lettuce & Tomato on Kaiser Roll
Grilled Vegetable on Ciabatta
plus a bag of potato chips and an apple
$16
Other Meals
At other times, meals are available at the Cafe Milano and SUGI Japanese restaurant.
Lobby Bar and Late Night
The Atrium Lounge will remain open until 1AM on Friday and Saturday nights for drinks and late night snacks.