Weekly dance instruction is good for the spirit. But what's a dancer to do when classes are over? Keep dancing, of course!
And so, our semi-monthly summer dances have begun, with a change in venue and time. For four Tuesdays, we are dancing on the 6th floor conference room of the Lenox Health Greenwich Village medical facility. Folks are making the best of the carpeting, kicking up their heels and kicking off their shoes if necessary. Betsy Gotta called on Jun 12, and Howard Richman called for our Rainbow Pride club night on the 26th.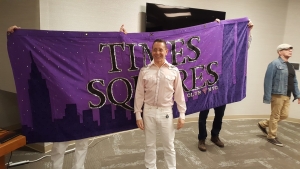 We are starting, and finishing, 30 minutes earlier, which also makes for happy dancers. 7:00-9:00pm seems just the right time for getting enough dancing in without folks trickling out.  We hope the momentum continues throughout the summer.
If you haven't danced with us this summer, your next chance is July 17 when Don Moger from Montreal will be calling. Be there AND be square.