Peel the Pumpkin 2018 "Under the Big Top"
Friday October 26
–
Sunday October 28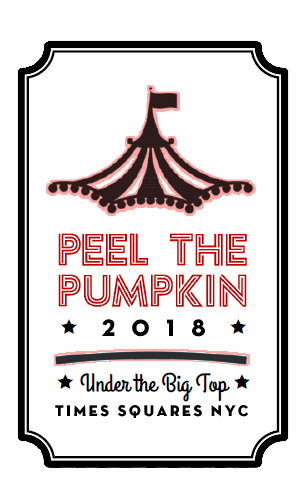 Peel the Pumpkin 2018 "Under the Big Top"
will be at a new location:
DoubleTree by Hilton Hotel in Fort Lee, New Jersey
. It is just across the George Washington Bridge from Manhattan. The hotel's proximity to Manhattan is perfect for our local members and is excellent for out-of-town dancers. An inexpensive shuttle bus service to midtown is provided by the hotel so you can enjoy the attractions New York City has to offer without the stress and expenses of staying there. Three full-time halls will provide non-stop dancing to the amazing Sandie Bryant, Betsy Gotta and Ted Lizotte. Dance levels include Mainstream, Plus, Advanced and Challenge 1. What's more, we've included a sumptuous buffet dinner on Saturday night before our legendary costume parade. Come prepared with your circus-inspired costume and join in the fun. As always there will be a pool tip late Saturday night.
Hotel Reservation
Special Peel the Pumpkin room rate of $139/night is available from Thursday (October 25) through Sunday (October 28).
Call the hotel reservation line at 800-774-1500 for reservation (group code E90).
Hotel Shuttle Reservation
DoubleTree by Hilton Fort Lee offers a shuttle bus service from the New York Hilton Midtown to the hotel for $10 one way. They have reserved two time slots each on Friday (from Manhattan to Fort Lee) and Sunday (from Fort Lee to Manhattan) have been set aside exclusively for us. There are only twelve seats per bus, so reserve your seats early using our on-line registration system below. Bus fares will be included in your hotel room charges.
Where to pick up the shuttle in Manhattan:
New York Hilton Midtown 1335 Avenue of the Americas New York, NY 10019 (Between West 53rd and West 54th Streets)
Friday (10/26) Manhattan to Fort Lee
2:30pm and 4:30pm
Sunday (10/28) Fort Lee to Manhattan
2:00pm and 4:00pm
Peel the Pumpkin 2018 Rigstration
Online registration is available below or you can download our
registration form
to mail in with your check. Special early registration is available for $95 until January 31, 2018. Register early!
$95
Until January 31, 2018
$115
February 1, 2018 – September 30, 2018
$135
Oct 1, 2018 and after
$85
Saturday all day dancing registration including dinner buffet
$40
Saturday night buffet dinner only for non-dancer
Saturday Full Day and Per Session
Available on site
$35
Per dance session (Friday evening, Saturday morning, Saturday afternoon, Saturday evening not including dinner buffet, and Sunday morning)
We have discontinued online registration and shuttle bus reservations. You can still register on site at the hotel for full weekend and Saturday All Day.
Who's coming?
86 people are attending Peel the Pumpkin 2018 "Under the Big Top"