Click here to view the dance schedule for Peel the Pumpkin 2017: Alice in Wonderland
Geroge Voorhis has passed on a video of Charlie Roberston, a California caller, whose semi-rap style had me bouncing in my chair as I watched this video. Take a look and see what you think. And remember, if you encounter a caller you like, please let anyone on the board know and we'll pass the…
Peel the Pumpkin 2017 is right around the corner, and you know what that means….. It's time to proudly display your BULGING Basket ! Remember, this year our club is looking to surpass last year's sophisticated basket collection. This is not the time to empty your closets of old clothing and used items. This is the year to razzle…
Given his colorful socks and outlandish costumes, I've always wondered what Alain Buzzard's apartment looks like.  I finally got a chance to see it when he invited me to help angel the new Plus dancers whom he's teaching in his home. Energy is high and everyone is laughing and having a good time, as…
We are slightly behind where we were last year for Peel the Pumpkin registrations. It's not too early to register and ask your friends to join us for this wonderful event. The board has approved a plan to host Peel the Pumpkin 2018. More information as it becomes available. Thanks to those who have volunteered…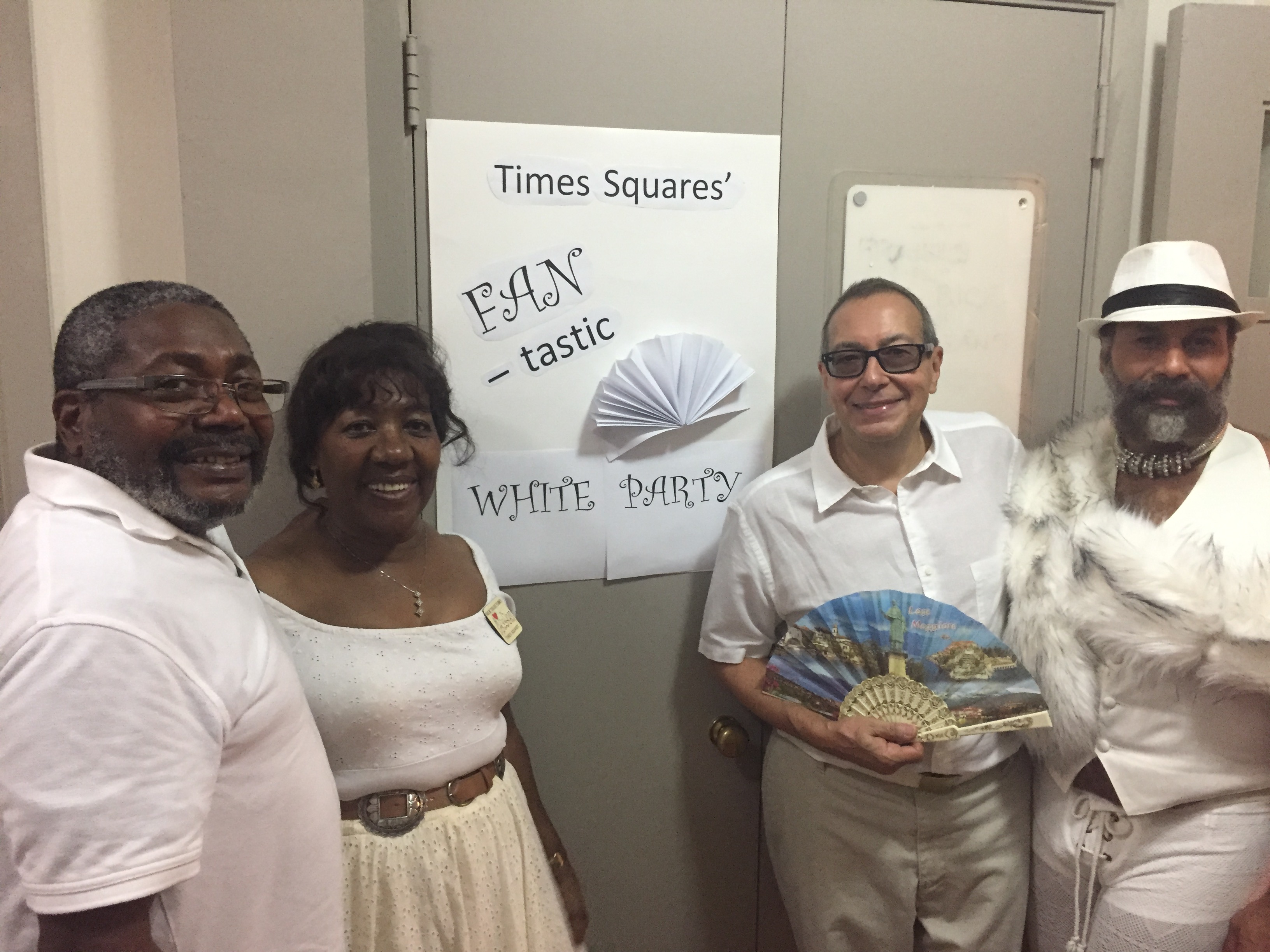 So nice to see so many club members and visitors from Northern New Jersey and beyond at our White Party.
Memorial Service announced: The service will be 11:30, Tuesday at the Plaza Jewish Community Chapel at 630 Amsterdam. The burial will follow at Beth David Cemetery in Elmont, NY. The phone number is 516-328-1300. A good friend and square dancer since 1991, Harold Gabel, passed away yesterday after a long battle with cancer. We…
UPDATE: There are no calling hours. Funeral services will be private and at the convenience of the family. Memorial contributions may be made to Dancers over 40 Inc., PO Box 2103, New York, NY 10101. See notice from the Harlem Valley News below. Paul Berna, who joined Times Squares in 1990, passed away recently. He…
Official club photo from Palm Springs Swing and Mix 2017 is now available for ordering. Order your photo from the official portrait photographer, Bruce Marc Waterman, online or by calling him call at 818-824-4988 on weekdays 9am-5pm California time.
The sweltering heat was mitigated last Tuesday night by thoughts of snow as five squares turned out for Times Squares' Christmas in July dance.