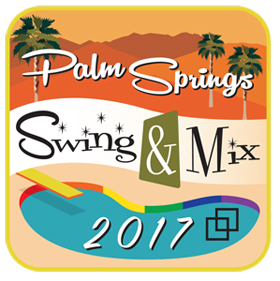 Over the Fourth of July weekend 825 square dancers from the US, Canada and Japan flew into Palm Springs, CA for the International Association of Gay Square Dance Clubs' (IAGSDC) annual convention, "Swing and Mix 2017". One third of Times Squares' members attended this "hot" event. Even though the high temperature was close to 120 degrees, the locals insisted that was OK because it was a "dry" heat. I can tell you, at that temperature, it does matter how dry it is, it's still way too "hot". But many of us cooled off by the edge of the hotel's outdoor pool watching the bathing beauties promenade by, or jumped in the water and joined the pool tip.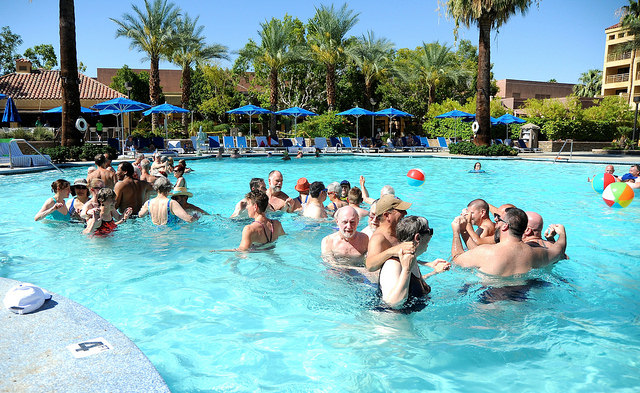 I remember when we first started dancing we would dance for hours and dancing from 9 AM to 11 PM hardly seemed enough. Now that we're aging and can't do that anymore, the convention organizers are beginning to adapt.
I noticed that this year you could spend as much time touring as dancing. Busloads of dancers avoided the heat and left before dawn to dance in different places around town on what's called the Fun Badge Tour. Others took the aerial tram to the top of Mount San Jacinto and danced high above the valley floor, or went to the high desert and danced among the Joshua trees.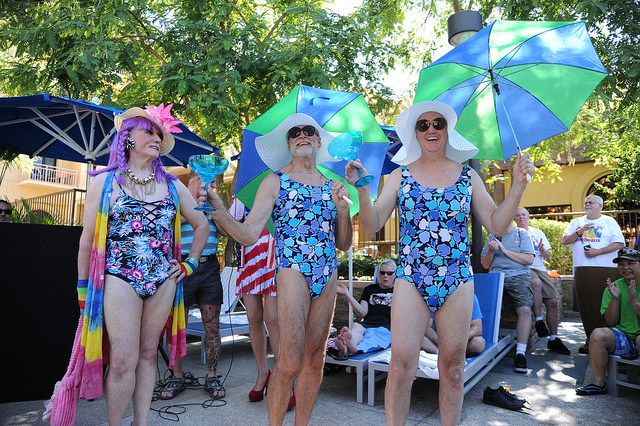 Of the many tours offered I chose the Mid-Century Modern Architectural tour. It was fun to see how Zsa Zsa Gabor and Elvis desecrated otherwise beautiful houses to make them more "theatrical". Still others, owners who hated modern architecture, covered the walls with stucco, added red tiles on the roof and (voila!) recreated Spanish colonial.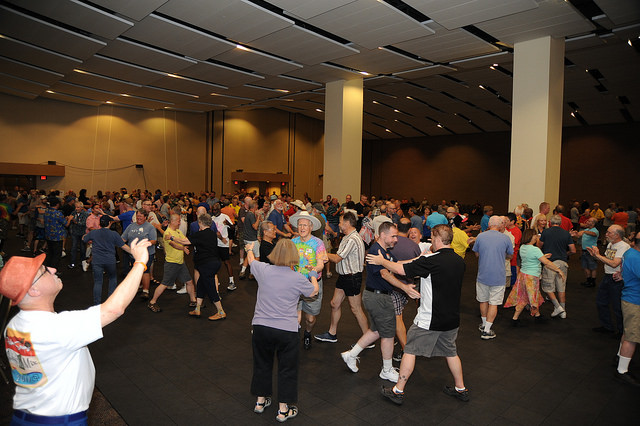 To encourage people to keep dancing, special-interest dances were offered. Along with contra dancing to a live band, there was square dancing for millennials, women, and people of color. Among the more unusual offerings were the Magic Underpants tip (self-explanatory), and the Moonshine tip (nudists). Note: for those who were wondering, the callers are naked and you're not allowed in the room if you don't strip. There's even a guard at the door. My husband, Kian, and I attended the tip for legally married couples. The gay community must be taking marriage for granted because there wasn't even have a full square while we were there.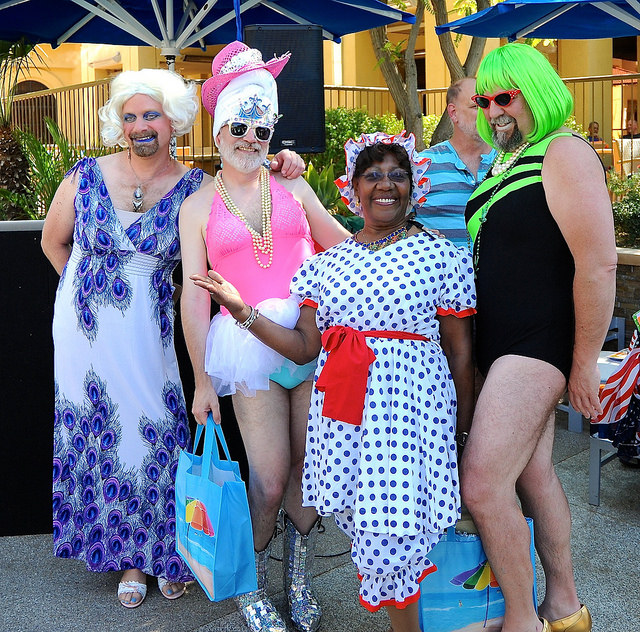 To honor dancers who have attended conventions faithfully the IAGSDC bestows medallions. This year Betsy Gotta and Darryl Murphy both received 20-year medallions and a 10-year medallion was awarded to Mike Ryan. Congratulations on their dedication to dancing!
Upcoming conventions will be in Seattle (2018), Philadelphia (2019) and Denver (2020). None of the member clubs expressed interest in hosting the 2021 convention so IAGSDC board members and former convention chairs will do the organizing and the tentative venue is Minneapolis, MN.