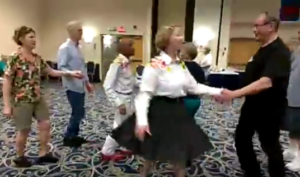 REHOBOTH DE, April 28-30, 2017. Ever wonder why so many Square Dance calls have an affinity with water?  Step to a Wave, Load the Boat, Pass the Ocean, Pass the Sea…..? Seems there's a natural association for Square Dancing and the Ocean and it's because they're both Fun! This weekend, Chesapeake Squares proved that, as hosts of a great party — their 31st Fly-In "Pass the Ocean, Hon!" April 28-30, 2017 at Rehoboth Beach, Delaware.
In their new venue since the Convention Center closed for expansion in 2016, the Atlantic Sands Hotel provided adequate dance space and ocean views from almost every room. Located directly on the Rehoboth Boardwalk and contiguous with the beach, a paradise of fast food, restaurants, games, candy, novelties and resort temptations await right outside the front door. The good weather graced us with blue skies and calm seas, and with temperatures in high 80's, adventurous locals even ventured into the drink.
Since this is the 31st Fly In, it means Chesapeake Squares has held a Fly In every year since their inception in 1986 with help in forming from the DC Lambda Squares.
Veteran callers Bill Harrison (MD), Dayle Hodge (MD) and Anne Uebelacker (CAN) as always kept the pace going with standard upbeat tunes that, for my taste, tended more toward traditional hokey than country, rock or pop, but reliably delivered their high brand of choreography and fun dancing. Five animated squares held the floor during the Mainstream and Plus tips during All-Skates. Saturday Night was a "Banner Dance" – a dance to raise awareness and help funding for the International Association of Gay Square Dance Clubs ("IAGSDC"). The loaned-from-the-IAGSDC Banner was on display, and the Club's share of that night's 50/50 Drawing was donated to the Association. Both parties garnered a little over $250. Dancers were encouraged to wear their Club's Colors, and you can see some of them in the videos and pictures which abound on Facebook or see the link below. The schedule for the weekend was typical, simple, and safe. There was ample time for socializing and meals built in, so the planner had  well-appreciated leisure time in mind.  A square dancer hates to rush for fear of missing something, you know…. Standard specialty tips included Take No Prisoner, and Hot Hash Plus with Saturday morning workshops in all programs (Two for Mainstream!) And Introductions to Plus, A2, and Challenge 1 on Sunday.
As a C1 dancer I felt a little short-shrifted, as there was only 1 full hour of pure C1, all the others alternating slots with C2. So not counting workshops or All-Skates, C1 dancers got 2 tips an hour for 6 hours which broke continuity and concentration. And because most C1/C2 hours were simultaneous with A2 on another floor, there was no physical possibility of integration or alternating C1/A2.
Saturday night's basket raffle consisted mainly of Fly In Registrations, with one clinker of some used "vintage" lamps. With tickets sold at 15 for $5, everyone could have a good chance of winning. The dancing highlight of my weekend was Saturday's 9:30 AM C1 Workshop with Bill Harrison on "Little" and "Plenty". Each concept and formation laid the foundation for the next, and Aha! Moments abounded. I'll be looking for a C1 Blitz with Bill, as I think it would be marvelous, and you can never stop the worskshops when it comes to Challenge dancing! Of course, the most important aspects of this, almost relaxing, weekend of dance and revelry were social ones. It was great to see so many Times Squares faces – in no specific order – Michael C., Michael d., Bob B., Greeley W., Dave K., Lester S., Guy L., Bill S., Jeff E., George V., Cynthia and Jon U., Kim N., Howard H., Wally R., Lou P., Betsy and Roy, Fran H., Keith G., Pauline, and Gabriel, and please forgive if I've left anyone out.
Attendees came from all along the Eastern Seaboard, with familiar faces from as far away as California. The thing about Square Dancing friends, is that once you're back in a square with them, it's like no time has passed, and you pick up where you left off in the last square you were in together, say, in November at Harvest Festival Hoedown in York, or last year in December at Glitter Ball in Philadelphia. To quote a lovely friend this weekend, she remarked that Square Dancers are now her primary network for socializing, recreation and emotional support, and wouldn't know what to do with out it — and don't we all concur?
Well, I'm already registered for PTOH 2018, and have my hotel reservation at the Sands for next year. Thanks to Chesapeake Squares for another fine weekend at the Beach, and getting us all together again. See their Facebook Page for some pictures, and their website for information on Pass the Ocean Hon! 2018! (coming soon).   Yellow Rocks, George Voorhis