January 3-11 2015 was the week of the Caribbean Square Dance Cruise with Bill Harrison and Tom Miller on Royal Caribbean's 'Independence of the Seas.' It was organized by Jeff Kaufman of Travel Squared Travel for 175 of us lucky dancers.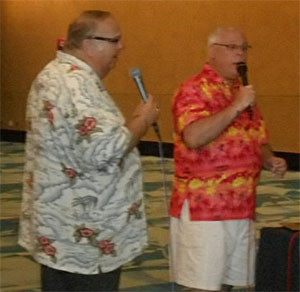 Leaving from Ft. Lauderdale, there were MS/PLUS and A-Star tips 10-12 AM & PM, with some additional A2 afternoon hours. In-port days, the dancing was 10-12 PM.
Highlights of the high seas adventure included dancing with the fledgling San Juan Squares ("SJS") in the Puerto Rico Convention Center, and a Flash Mob Square Dance on the Promenade Deck of the 'Independence.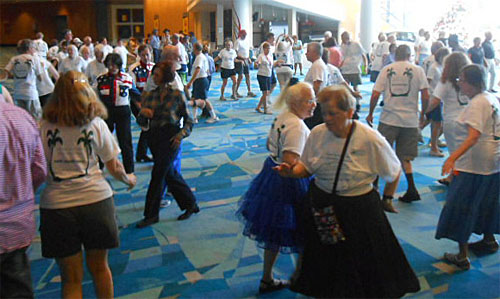 The folks at SJS were thrilled to be dancing with us, as they only dance to records, and so having two world class callers and 150 experienced dancers was wonderful for them. They were very hospitable and gave us a warm welcome, replete with swag bags and lunch.
Jeff and Susan Kaufman attended to every detail of our trip with many nice touches along the way, including commemorative T-Shirts, badges, a cocktail reception and in-room petit fours.
The group was eclectic, with dancers attending from all over the US and Canada, including TX, NC, NY, NJ, DE, PA, & Ontario to name a few places. The dancing was all very "vanilla," and not very challenging, but who wants mental stimulation on a cruise anyway….?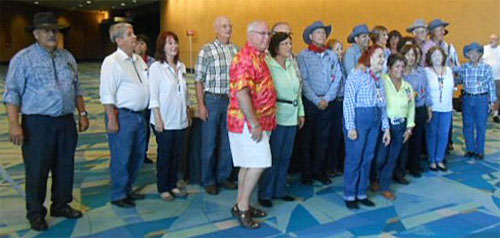 Bill and Tom were in great form, and always entertaining. Ports included St. Maarten, St. Kitts, Puerto Rico and Labadee, Haiti (private beach). So, be on the lookout for details about next years' cruise from Travel Squared Travel, Jan.16-23rd.
Happy Dancing,
YellowRocks,
— George